A Grateful Nation and Great Lakes State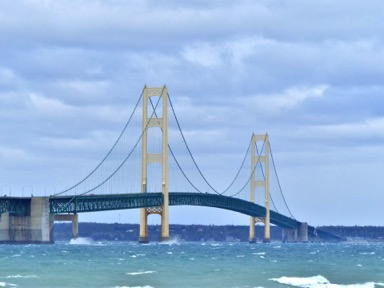 10-Point 10 Year Plan for the Great Lake State of Michigan [Points 5-10 Viable in ALL States, Points 2-4 in Some]
Introduction
Is the United States a nation of immigrants? Yes and no. Most Americans are not first generation immigrants but tens of millions are. Born to a bi-vocational Panama Canal laborer and gentleman farmer, and a teacher in Panama, Fulbright Association Michigan / Northwest Ohio Chapter friend Mayra Troya-Nutt started as a maid in home health in the USA and became an American M.D. In 1993, I showed our wedding video trailer – with clips from D.C., Virginia & Palm Springs – at the State Fair WNIC Romance Day Contest and won 4 airline tickets. We've traveled to 30 nations during the span of our lives. An OB/GYN, Mayra delivered over 1,000 babies in Michigan, France and Panama. One Texas J.D. believes Michigan is an immigrant's paradise because casual laborers in the Great Lake State are much more likely to be paid higher than minimum wages for entry-level jobs. Michigan has people from all walks of life – from travel and sports nuts to music, car, arts and entertainment nuts. Named in honor of Thomas J. Nutt I, Golf's Nutt Cup trophy originated in Michigan but also has tournaments in Illinois.
The Port of Detroit is the world's busiest international land border crossing. After Ambassador Andrew Young explained to me in 2012 how the Olympics can pay for themselves in the USA, the Detroit United Olympic Organizing Committee participated in the formation of a 62-pp Olympic bid themes dossier for a Michigan bid to host the 2024 Olympics (posted at WorldVictoryGames.org).
Detroit is one of three (3) kinds of cities in the previous 50 years that have won Olympic host city bids. With the below 10-Point Plan, this article argues a make over of Detroit and Michigan can take 7-10 years. It may take less than a decade if we engage our transformational talent bank of servant-leadership, a type of transformational leadership. I could be wrong. I often am. Let's examine the facts.
I once assumed that when my wife Mayra had a flat tire downtown Detroit that she was also carjacked. Negative Detroit stereotypes and generalizations led me to incorrectly conclude she was carjacked; I was ignorant of Detroit's world-class Courtesy Patrol. They had quickly changed her tire before I arrived and could be notified. She never saw me coming from behind her on foot as I saw her drive off. Detroit has been good to me, but it's image changed since it was the fifth largest U.S. city in 1958. Having emerged from bankruptcy in 2015, the city and state have long needed a make over. 1,000,000 Detroit residents relocated to suburbs. U.S. media criticized the city in one-sided negative stories instead of celebrating the amazing mobility and affluence of Michiganders and Detroiters. In 1990, the Census showed 3 of the top 20 most affluent cities in the nation were in the Detroit area with #1 Bloomfield Hills. Researching the census can help you learn a lot about your area and your family, especially if you are from Michigan. The census can allow you to see more information about your ancestors and family history than any other service, so you may want to take this opportunity now to learn more about you and your area.
My 2014 op. ed., reprinted below the 10-Point Plan that follows, was a call for three reforms. First, as the under-developed www.WorldVictoryGames.org site contends, Michigan needs to host great games – including the Pan Am Games.
Second, Detroit can rapidly beautify vast vacant, blighted areas with new man-made lakes. New York City (NYC) beautified abandoned Ground Zero after 9/11 with 2 man-made sunken pools and the 2nd largest man-made waterfalls in the hemisphere. Troy, MI replaced abandoned gravel pits in the 1960's with six Emerald Lakes surrounded by nice homes. A Troy MBA student from Tanzania recommends replacing blight with fish farms, housing and mixed-use developments with spectacular views of the Detroit skyline.
Third, enact a smart New York-style borough law. Our 10-Point Plan adds to the borough law a Michigan "Metropolis" twist for two metropolitan regions having more than 1,000,000 people – to qualify both metro Detroit and metro Grand Rapids for the first time for set aside federal transit funds. No new election law, nor a new tax, is needed. The new borough law legalizing a regional population as a "Metropolis" could designate it not as a NYC-style borough city but as a Michigan-style Metropolis. For example, the Detroit Metropolis would count a growing multi-county-based municipality exceeding a population of about 4,000,000. The new "Metropolis" municipality will legalize dual citizenship – that is, city-township-village-based citizenship and county-based borough citizenship with, as noted, no new tax law or election law changes.
Legalization of the new Detroit Metropolis with boundaries in agreement with the Great Lakes Water Authority boundaries would cause the U.S. Census Bureau to count – for the first time – every person among the approximately 4,000,000 residents served by the regional Detroit Water Department. Right now, we have the water department infrastructure serving a regional metropolis but lack a "Detroit Metropolis" municipality.
Michigan's present municipal law – which lacks a New York-type borough law provision for larger county-based municipalities – became a casualty of transition when millions of Michiganders moved from one Michigan city to another, leaving pockets of severely distressed neighborhoods behind. Because Michigan municipal law after 1958 ignored the opportunity to create county-based borough cities or metropolises, the world stopped seeing Detroit as world-class, able to adapt and grow, when the City of Detroit population began to decline. The world and national media pick up local stories focusing on the population change in one city – Detroit – ignoring the near exponential growth that occurred elsewhere.
At one point a little more than ten years ago, a collaborative of ten leading foundations formed with a goal to restore Detroit as a world-class city within around 40 years. New Economy Initiative realized within a handful of years, however, that Detroit had met so many milestones in just a handful of years that its primary goal morphed into "keeping Detroit world-class." Query whether metro Detroit can be described as "world-class" if the general public in Michigan and the USA hesitate to describe Detroit as world class. If regional Detroit is not believed to be world class, what is the quickest, closest pathway toward a world-class image that the world thinks is world-class? New U.S. Census data on the 2 Michigan metropolises, after municipal borough law reform, will resolve all doubts about their world-class status.
Michigan can enact a smart borough law for more accurate Great Lakes Water Authority regional and Grand Rapids regional U.S. Census data. An intelligent borough law delivers 2 major benefits to Michigan: a) 2 new Michigan metropolises: the Detroit Metropolis and the Grand Rapids Metropolis, with huge, growing populations that become the talk of demographers world-wide; and b) 2 multi-million dollar federal transit set aside funds for cities or borough cities or metropolises of 1,000,000 or more which daily battle the harms of congestion, ie: traffic, environmental pollution, etc.
For decades, only U.S. cities of 1,000,000 or more persons received the federal transit set-asides established to remediate the harms of local congestion, including long commutes, noise pollution, any unmet need for light rail and intermodal transit centers, etc. Every Michigan taxpayer after 1990 was a donor for those cities of 1,000,000 or more, including Chicago, Houston, Phoenix, Los Angeles, Philadelphia, San Diego, and NYC. A "no brainer" borough law can end Michigan taxpayer subsidies of millions of dollars in annual federal funds after 1990 to other states when Michigan's largest city's population declined below 1,000,000. We must not allow a single future set aside dollar to become a casualty of transition with metro Detroit's growing, modern metropolis that is easy to legalize. The region is already the 4thlargest business technology hub in the United States, with many already knowing What is Event-Driven Architecture and implementing it within their corporate structures. Indeed, the business world is bringing in more and more technologically exciting functions across the board. Many are even going to learn here about the proper security measures for such expansion.
Michigan's new, proposed borough law will significantly benefit the state's other metropolis, Grand Rapids. Through smart borough law reform, the Grand Rapids Metropolis will finally take credit for the fast-growing West Michigan population – with a population exceeding 1,000,000 Kent County and Grand Watershed area citizens. Use of the new state borough law will cement Detroit as a world-class Metropolis of around 4,000,000, based on expected U.S. Census statistics – and promote Grand Rapids as the 67th fastest growing Metropolis in the world as reported by Crain's Detroit Business.
10-Point 10 Year Plan
Summary:
1) Host Successful 2027 Pan Am Games & World Motorsport Games
2) Move City Airport to New Island; Create "Ellis Island" Initiative
3) State Borough Law with Michigan All-American Metropolises
4) Great Man-Made Lakes & Mobility
5) Fitness and Nutrition
6) Self-Certified Life Plan Requirement for High School Diploma
7) Enhanced Protection for Women, Child & Men Survivors
8) Strengthen Families; Stigmatize Crime
9) Aspire to be Twice as Good; Education is Armor; Forgiveness
10) Elect 1 Person as U.S. Senator (or Rep.) & MI Attorney General
Detail:
1) Host Successful 2027 Pan Am Games & World Motorsport Games. Hotels.com recently ranked Detroit the 2nd best U.S. city for sports fans. The most successful Olympian – Michael Phelps – trained in Ann Arbor, competing in the Pan Am Games held the year before the Olympics. If Los Angeles is the USA's preferred Olympic host city, why not aspire to make Detroit the first commercially viable, preferred Pan Am Games host city? The Games can be commercially viable with global television revenue by dovetailing the Games with world-class motorsports featuring Detroit's international hydroplane races, the Detroit Grand Prix, and the Michigan International Speedway. A Day at the Races could feature Free Prix Day and Free Hazel Park Raceway thoroughbred horseracing, while the Woodward Dream Cruise could increase broadcast ratings during the Para Pan Am Games.
2) Move City Airport to New Island; Create "Ellis Island" Initiative. A) Move Coleman Young International Airport – Detroit City Airport to a new man-made island for jumbo jets, east of the Belle Isle bridge. B) Ask Homeland Security to vet about 500,000 non-violent undocumented aliens during an annual Detroit vetting season, via re-entry through the Port of Detroit after a 5-10 minute cruise circling back from Canadian waters for Customs vetting. Permit a similar process for the ports of Seattle, WA, Buffalo, NY, and Toledo, OH. Start with a pilot for undocumented Southern California youth and families; early vetting at the Port of Detroit in preparation for engaging non-violent individuals and youth in the 2023 and 2027 Pan Am Games and the 2028 running of the Olympic torch, the LA Olympic Organizing Committee can advance the Detroit United Olympic Organizing Committee $25 million for the Port of Detroit 2023 "Ellis Island" pilot and $25 million for the DUOOC to prepare to host the 2023 and 2027 Pan Am Games with a commercially viable motorsports twist. Why herald Detroit as "the new Ellis Island"? Cities and states need constantly increasing numbers of people and increasing revenue according to Ambassador Mayor Andrew Young of Atlanta, an Olympic Organizing Committee Community Organizer. Imagine the late Henry Ford paraphrasing the late Rev. Dr. Martin Luther King, Jr.'s first "I have a Dream" speech delivered in Detroit just weeks before his speech in D.C.: "In a sense, we have come to our nation's 'motor capital' – to cash a check one might call the "New Ellis Island Pilot". In so doing, Mr. Ford and Dr. King were signing a promissory note to which every American was to fall heir; similarly, when Michigan created the Model T and the assembly line mode of production, Detroiters were signing a promissory note to which every American was to fall heir. This note was a promise that all men, yes, black men as well as white men, including all Detroiters, would be guaranteed the unalienable rights of life, liberty, and the pursuit of happiness. It is obvious over the past many years; our nation defaulted on this promissory note marked 'insufficient funds.' But we refuse to believe that the nation's bank of justice is bankrupt in this great country of opportunity. So we have come to cash this check-a check giving Detroit the riches that Michigan brought to the world.
3) State Borough Law with Michigan All-American Metropolises. Good laws stabilize and strengthen relationships that would otherwise develop in unpredictable, erratic ways. For Detroit's million people who relocated to nearby towns, Michigan's municipal law has not met this test. Detroit was described in negative terms when thousands of residents left. Detroit could have just as easily be described in terms celebrating it's residents' physical and upward mobility that gives Detroiters who live, work and play in Detroit many residential choices – from Windsor, Canada to East China. To make over Michigan, we must also make over Detroit by convincing Michigan and the nation that Detroit is an All-American city on the rise. When Michigan and the USA deem Detroit and Michigan world-class, the rest of the world will soon follow. Apportioned federal transit dollars set aside for major cities to alleviate the harms caused by congestion in large cities was guaranteed funding shockingly abandoned by the state that never reformed the state municipal law with a "no brainer" NYC-styled borough provision to instantly retain eligibility for the most generous federal apportioned allocation. The state officials blamed local officials and local officials the feds. One official serving in both a statewide and a federal elected capacity, as described in 1., here, is urgently needed to reverse actual damage to Michigan's reputation globally, which is exaggerated by one-sided, perpetual world-wide media spin connected to one U.S. Census statistic on the Detroit population from a negative angle. After the 1990 US Census, the entire City of Detroit population no longer qualified for tens of millions of dollars in annual federal set-asides when the population fell below 1,000,000. In contrast, the "no brainer" borough law in New York enabled the counties known as the boroughs of Manhattan, Brooklyn, the Bronx, Queens and Staten Island never stopped capturing millions of dollars of apportioned federal set-asides to reduce harms caused by congestion, i.e., traffic congestion, environmental pollution, etc. The M-1 light rail could have been paid for ten years ago with a second line opening in 2017. Michigan needs the state "no-brainer" borough law to legalize its two largest metropolises. Michigan has All-American college athletes. My brother-in-law was one, and his daughter became the 15th fastest high school girl in the mile in the United States. State law can declare our two largest metropolises as "All-American." Local counties become boroughs of a larger borough metropolis; the metropolis population counts the 1 million people of metro Grand Rapids (Grand Rapids Metropolis or Metropolis Grand Rapids). Through legalizing the population in the Kent County area and the Grand Watershed, Grand Rapids can become Michigan's 2nd federally-recognized municipality of more than 1 million – and retain its 2017 status as the 67th fastest growing metro area in the world. With Metropolis Detroit, including the Oakland County Borough, Macomb County Borough, Wayne County Borough, Monroe County Borough, Livingston County Borough, Washtenaw County Borough, Lapeer County Borough, St. Clair County Borough and Genesee County Borough, Metropolis Detroit's population could exceed 4 million residents who are daily hydrated by the City of Detroit Water Department managed by the Great Lakes Water Authority. Together, they symbolize the continuously flowing water, capital, land easements, and talent of the Metropolis. The new state law could be titled the Michigan "All-American Metropolis Legalization Act." New U.S. Census metropolis statistical area statistics for the East and West Michigan metropolises will snap the eyes and ears of the world open. A new All-American Metropolis Detroit will have 4 million residents. County executives will also be the designated Borough Presidents with the mayors of the largest city within the Metropolis, the Metropolis mayor who is also the signing authorities for any revenue-sharing agreement required by the state – drawing upon the successful model of the Great Lakes Water Authority – for the borough counties to distribute the apportioned set aside funds. No new taxes or taxing authority is needed; neither are election law changes required.
4) Great Man-Made Lakes & Mobility. Use some of the federal transit set aside fund apportionment for major metro areas to relocate Coleman A. Young International Airport to a new island east of the Belle Isle Bridge, with a world-class runway for jumbo jets – comparable to Ronal Reagan International in the Potomac River. Replace the existing airport with a beautiful Great Detroit Lake and connect it to the water taxi routes on the Detroit River. Similar to Tokyo and Berlin after World War II, and Troy, Michigan's man-made Emerald Lakes and Troy Lake area with beautiful homes, Detroit blight can be replaced with spectacular waterfront vistas that provide sport, recreation, and health benefits. Water removes lead particles that otherwise harm kids' brains, causing avoidable behavior issues.
5) Fitness and Nutrition. Michiganders can take pride in refining our physical strength and capacity to the fullest. As the axiom goes, "Use it, or lose it." To those who may have been underweight, like the writer – or overweight, like so many others – we rightly seek to gain weight or to lose weight, respectively. To achieve the ideal weight is a gain. "Weight Gainers" will exercise more and eat more fruits and vegetables to gain weight OR spend $1 less per day on food by reallocating the daily dollar to "Weight Gainers International." It's a win-win for "Weight Gainers" who are daily beating the odds. Michigan wins the battle against malnutrition and the battle of the bulge. Our "plus-sized" weight gainers a) consume less; b) spend less on food; c) pay the underweight team the underweight to post nutrition plans, exercise plans and take at least one action per month to alleviate world hunger that includes self-sufficiency agricultural programs to grow fruits and vegetables. Weight Gainers International will challenge each Member to "tithe" 1/10th of their food budget – or a dollar per day, whichever is less – to sustain their Membership, a portion of which will be used to fight world hunger.
6) Self-Certified Life Plan Requirement for High School Diploma. To advance from the 10th grade to 11th grade will require a Draft Life Plan Self-Certification with five (5) numbered steps starting with EITHER "1. Earn Diploma" OR "1. Graduate." Ensure every student nearing high school graduation completes a Life Plan High School Diploma Self-Certification: submit a Final Life Plan High School Diploma Self-Certification consisting of five (5) steps with your cap and gown request order form.
7) Protection for Women, Child & Men Survivors. Restructure $1 billion nationally of Planned Parenthood federal funds to require staff to complete mandatory domestic violence victim advocate training; reallocate their residual national federal funds to increase victim advocacy funds nationwide for federal Violence Against Women Act providers, federally qualified health centers serving cancer survivors, federal Legal Services Corporation providers serving domestic violence victims, and federal Victims of Crime Act providers. The reallocation will reduce by 40 the 80-plus Michigan women killed by domestic violence annually. To further protect the abused, homeless, and disabled survivors, protect unrepresented Personal Protection Order petitioners with rapid handgun safety self-defense training and registration, and expedite concealed weapons and open carry permits processing. Especially when lethality indicators are involved in domestic violence, this point has the potential to save lives. Saving lives and growing our population – and enabling as many able-bodied youth and adults to help themselves by helping the community will help the USA in a world of increasingly interdependent communities and to prosper with larger, more populous competitors like nations with more than 1 billion people.
8) Strengthen Families; Stigmatize Crime. Re-brand the Michigan Department of Corrections as Michigan Department for the Duly Convicted to re-stigmatize incarceration for the "duly convicted" as envisioned by the U.S. Constitution that did not end enslavement by conviction. Stop the overconsumption of sugar that triggers nutrition-based psychotic behavior; prescribe Lithium to stop psychotic episodes and utilize talent with a path toward release; control ex-offender hypertension; end opioid abuse; end the diabetes epidemic with the proven 3-step strategy: a) consume no processed foods; b) consume no foods that did not exist 100 years ago; and c) exercise regularly. Find inner peace and harmonious relationships by forgiving your worst enemies, as recommended by the Terre Haute, IN Holocaust Museum founder and holocaust survivor. You change your life when you change your mind. Regarding past offenses: Forgiveness is empowering and brings liberation. Don't' look back.
9) Aspire to be Twice as Good; Education is Armor; Forgiveness. If your city or state needs a make over, learn from a past U.S. Secretary of State. Secretary Condoleezza Rice said her parents taught her as a student to aspire to be twice as good. Even if you fall short, the mere act of trying will build confidence. Education will be your armor against prejudice. After a make over, there are no victims, only victors. To be twice as good with self-defense and gun safety, consider free gun safety training for self-defense, warning gun owners that if they make a mistake or shoot someone in the back, they will be treated just like a criminal. Therefore it's important to know the gun laws in your area. Sites like https://gunlawsuits.org/gun-laws/
can help you get up to speed and know what is right and wrong. When it comes to racial or ethnic bias, teach youth there are no victims – unless your organization applies for a Victims of Crime Act grant. Victimology is harmful because it teaches that your life is in someone else's hands. You can't always control what happens to you, but you can control your response. Racial separatism and anti-intellectualism are also harmful. Although law enforcement needs to hold perpetrators to account, a crime victim also needs to learn the power of forgiving even their worst enemies. Offenders pay their debts back to society by learning to help themselves through serving the community; survivors are liberated through forgiveness.
10) Elect 1 Person as U.S. Senator (or Rep.) & MI Attorney General. Elect a law & order, civil rights attorney to serve in the nation's first strictly synchronized, digital campaign to achieve a world-class make over of Michigan in 4 to 6 years. Why? To a) restore Michigan as the envy of the world as it was in the 1950's; b) to restore metro Detroit to its previous stature as the "Silicone Valley" of the USA as it was 60 years ago; and c) to enforce and make laws to resolve doubts world-wide about our motor cities being world-class. Even a write-in candidate who has an easy-to-remember name could win and successfully serve two contemporaneous terms beginning in January 2019. Calibrated Lansing and D.C. teams with walk-up studio apartments in each physical office to save time and money are legally defensible. The Governor's mansion could be used for a family in transition from a severely distressed community. One person may legally, simultaneously serve as both Virginia Governor and U.S. Senator from Virginia through election to both positions on the same ballot. Why could not a single elected Michigan official serve as both the Michigan Attorney General and the U.S. Senator (or a member of Congress) from Michigan? A U.S. Senator-Michigan Attorney General can simultaneously seek to remove state and federal legal barriers to a grand Michigan make over, as described in these 10 points.
Conclusion
Unlike New York and four (4) other states with borough laws, Michigan's municipal law is stale and a casualty of transition. The fluctuation of the population of the Manhattan borough population by hundreds of thousands of people – who moved out of Manhattan – were largely absorbed into another New York City borough thus sustaining the New York City population. Why Michigan has not empowered its citizens with a borough law defies common sense. Over time, this defect resulted in a census-taker's legal barrier that creates a false dichotomy in terms of public perceptions of perpetual population declines in both Detroit and Michigan, ignoring significant positives like regional growth and the fact that Grand Rapids is the 67thfastest growing metro area in the world and other favorable demographics. The false dichotomy blossoms every year when the U.S. Census statistics for metro Detroit a) ignore the need to give credit to the City of Detroit and regional Great Lakes Water Authority is nonpareil in the Midwest USA demographic life-cycle population statistic: the daily hydration of over 4 million people by a department within just one city; b) ignore the 4 million people on whose land the City of Detroit possesses land easements, and c) ignore the demographic count of 4 million in Southeast Michigan All-American metropolis and the 1 million in the West Michigan metropolis who daily exchange millions in their two (2) "extra-legal" human and capital hubs. Pure Michigan is our slogan. We will be "Smart Pure Michigan" the moment it reaches our minds in both Lansing and Washington, DC that Michigan and Detroit are ready for a grand make over. We look forward to seeing you soon.
When we meet, we will smile and greet you with a firm handshake with "Welcome" 🙂 as you step into the world-class, All-American motor cities with the sport, culture, automation, and hydration that nourishes guests from the USA and around the world. The new, proposed city airport island may need to make room for Air Force One or for Space X flights for private passenger space travel. When Air Force One is in the vicinity of several states, they often call ahead in case POTUS would need and emergency hospital admission. Detroit Medical Center (DMC) has the only Level One trauma center of its kind in the several state area where a person will be resuscitated not just two – but three times – if needed after flatlining. The Midwest USA's only branch of the National Institute's of Health is at the DMC Harper-Hutzel Women's Hospital.
In the recent past, Amtrack announced plans for an amazing, enhanced Southwest Michigan train route to Chicago. The Wolverine line upgrade will be built with the fastest passenger trains ever constructed in the USA. With existing under-water train and auto tunnels, the Port of Detroit spanning three (3) Michigan counties will soon add a fourth bridge span to Canada paid for by Canadian investors. Canada announced plans to name the bridge at the New International Crossing the Gordie Howe Bridge in honor of the late Hockey Hall of Fame player who played decades for the Detroit Red Wings. When the Fulbright Great Lakes World newsletter editor told me he played hockey before becoming high school valedictorian in Garden City, Michigan, I asked where his missing teeth were that are like a badge of honor for some hockey players. He said the missing teeth were concealed by a plate. I nominated him for a full four year Reagan Fellowship at Eureka College. After teaching and graduate studies at Wayne State University, he was recruited to work for the Ford Estates. Henry Ford, like Bill Gates and Steve Jobs, did not need a degree for education.
Amazon launched a candidate city bid themes process to host their proposed Headquarters 2, sort of like a police department "backup command center" if disaster strikes HQ1. Only one major U.S. bid city with the percentage of persons with college degrees below metro Detroit's 34% – Miami, with 31% – met Amazon's "talent" test. If Amazon gave cities extra "talent" credit for bilingual English-Spanish language proficiency, Miami could have made the top 20 bid cities cut despite the lower college degree stat. About one of three Miamians were born into Spanish-speaking Latin American families. Amazon's definition of talent, weighted toward academic degrees, may have overlooked hard-working inventors like Ford, Gates, or Jobs or discounted their garage novelties until their inventions, capital, and – in the words of Napoleon Hill – the "mastermind alliance" dream team for personal or spiritual advancement. Ford overcame launching his career in an environment of poverty and ignorance but became one of the richest men in America within 25 years.
Do Michigan and Detroit have world-class talent? In 2017, the Chronicle of Higher Education reported that 3 of the top 10 universities winning the largest number of Fulbright Distinguished Teacher Grants were Michigan universities. The University of Michigan (U-M), Western Michigan University, and Michigan State were listed in the top 7 for those Fulbrights – the most common type of Fulbright award given by the flagship international educational exchange program of the United States government.
The top school in the USA for the total number of grants to Fulbright scholars and fellows has most often been either Harvard or University of Michigan which usually alternated 1st and 2nd globally over the past long number of years. United University Online aspires to participate in the formation of Fulbright or Ivy League caliber scattered-site high tech micro-campuses with a STEM focus and a physical fitness twist. No more than 1,000 students per campus – to serve about 330 in the morning, 330 in the afternoon and 330 in the evening, learning to achieve their untapped potent, succeed in the marketplace, and realize their dreams for success in their hometown.
HOW TO MAKE OVER DETROIT – Op Ed, DetroitNews.com 09/14/2014:
Detroit is one of the most fun cities on earth: With the world's
largest urban island park; world's busiest international land
border crossing; the only city to be selected first runner up in two
consecutive Olympiad host city bids in 1959 and 1963.
Detroit hosts the world's only international underwater
marathon mile. For Detroit to become a world class city again,
however, we must catch the vision for great games, great lakes and
great laws.
– Great events. We need a privately funded bid to host the 2023
Pan Am Games in Detroit. After traveling with a delegation from
the University of Michigan six times to Brazil's host city for
the 2016 Olympics, Cesar Simborth, a U.S.-Peru Fulbright
alumnus and master of urban design, stated unequivocally to the
Detroit United Olympic Organizing Committee and Visit Detroit in
2013 that Detroit is one of the three types of cities in the past 50
years to win Olympic bids.
If not yet world class, a city must be willing to adapt and
dovetail their urban design plan to the games. Ambassador Andrew
Young told me in 2012 that Detroit would be a great place to host
the Olympics.
– Great new lakes. The U.S. earned billions in revenue from the
Panama Canal after making a large man-made lake for the canal.
Berlin and Tokyo completed massive waterfront beautification
make overs after World War II. Later, the city of Troy received tens
of millions in taxes from formerly vast, abandoned gravel pits that
were converted into man-made lakes with nice homes.
The immediate past acting Troy manager stated that, because of
Detroit's shallow water table, creating new lakes in Detroit
could cost less than in Troy. According to the U.S. Centers for
Disease Control, lakes can offer real sport and public health
benefits too.
– Great state borough law. Can you imagine a Detroit citizenry
with about 4 million persons rather than a population of 700,000 in
2019? It is possible with a smart new state borough law, sort of
like New York's borough law that allows for a type of dual
citizenship for residents of the boroughs of Manhattan, Staten
Island, Brooklyn, the Bronx, and Queens with the
understanding that no new authority would be granted to tax or
govern outside of existing municipal boundaries.
Why would suburban Detroit residents want to be granted dual
Detroit citizenship? Revenue sharing.
A city with one million or more residents receives special federal
funds. If Michigan had a borough law, or granted Detroit
citizenship to those served by its water department, a city
approaching four million would make Detroit the second most
populous city in America, able to share more federal funds.
Troy's man-made lakes transformed major blight into nice
vistas. As mentioned, Detroit can emulate proven methods in postwar
Berlin, Tokyo, and Troy. Lakes not only reduce some flood
risks but also lead poisoning that too often results in brain injury,
achievement gaps and juvenile delinquency.
Let's snap the eyes of the world open with these reforms.
Michigan is where the Strykers invented the hospital bed, the
Fords invented the Model T, and the Nicholson's invented the
first machine to read the bar code. Our relentless innovators can
define our place in the global marketplace. An ancestor of this
writer, Candy Cummings, became a creative ball player. By
skipping rocks at the beach he learned that he could throw the
world a curve ball.
Detroit and Michigan are ideally situated to do the same.
Jeffrey G. Nutt is president of Jeffrey G. Nutt & Associates, City Liaison of the Somerset North Homeowners Association, and president of the Fulbright Association Michigan / Northwest Ohio Chapter