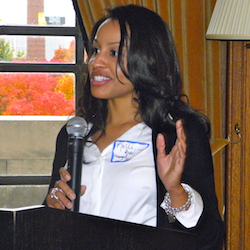 Kelli Bailey, M.B.A. serves as [Business Consultant], overseeing client relations, receivables, payables, and office administration. She refined her skills and abilities through earlier service as a customer experience manager for a major retail outlet at the Troy, Michigan Somerset Collection, one of the largest upscale malls in the United States. There, she managed payroll, budgets, financial updates & forecasts, and scheduling for 70-plus staff. She recruited talent, interviewed and screened new hires, and coordinated training and development. Additionally, she was responsible for sharing oversight and development of the sales team of twelve to fourteen people.
Ms. Bailey planned, marketed, and promoted on-site and company sponsored activities reaching as many as 200 to 500-plus clients in a single event. She planned community initiatives for 14 store locations in Michigan and Indiana. Her employer granted her the tuition assistance needed to earn her Masters In Business Administration from Wayne State University as an evening student in 2011. She extended her ability to work with clients in legal and human services organizations where she served the community as a business paraprofessional and a development intern, respectively.
As a United University presidential fellow, Ms. Bailey assisted the leadership in the preparation of components of the business plan for the new university effort, including the financial statements and marketing plan. The United University Effort's first You-Tube voice, Ms. Bailey enjoys fine art and serves as a vocalist with choirs at various Detroit and suburban venues from time to time.